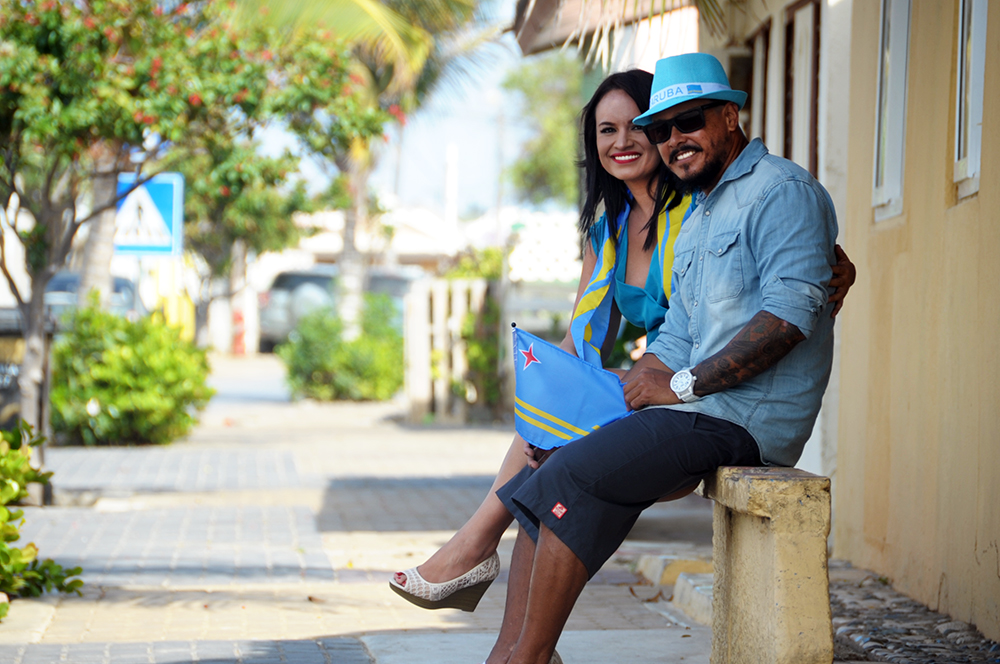 Facebook Campaign 10 Maart 2017
Mustra nos den un potret of clip con abo ta celebra dia di Himno y Bandera y kico ta pone'bo sinti orguyoso di ta Rubiano (Mas potret bo share, mas chens pa gana). Upload esaki den e comment di e post riba nos Facebook page. Nos lo tin 3 premio: 1. Potret/Clip mas creativo, 2. Potret/Clip mas Crioyo, 3. Potret cu un Item di SETAR aden.
SETAR lo saca dia 20 di maart 2017, 3 ganador di:
1) Potret/Clip mas Creativo  -  Cadeaubon di SETAR di Afl. 250
2) Potret/Clip mas Crioyo   -  Cadeaubon di SETAR di Afl. 150
3) Potret cu un item di SETAR aden – Cadeaubon di SETAR di Afl. 100
SETAR ta regala 4 tickets pa bay wak e wega di Republica Dominicana contra Colombia, diadomingo awor na Miami. E premio ta ensera pasashi, hotel, tickets pa e wega y zakgeld. Pa participa ta facil. Manda un SMS cu e palabra SETAR pa number 250 (e ta gratis y por participa únicamente un biaha pa number). Ta anuncia ganador diabierna proximo.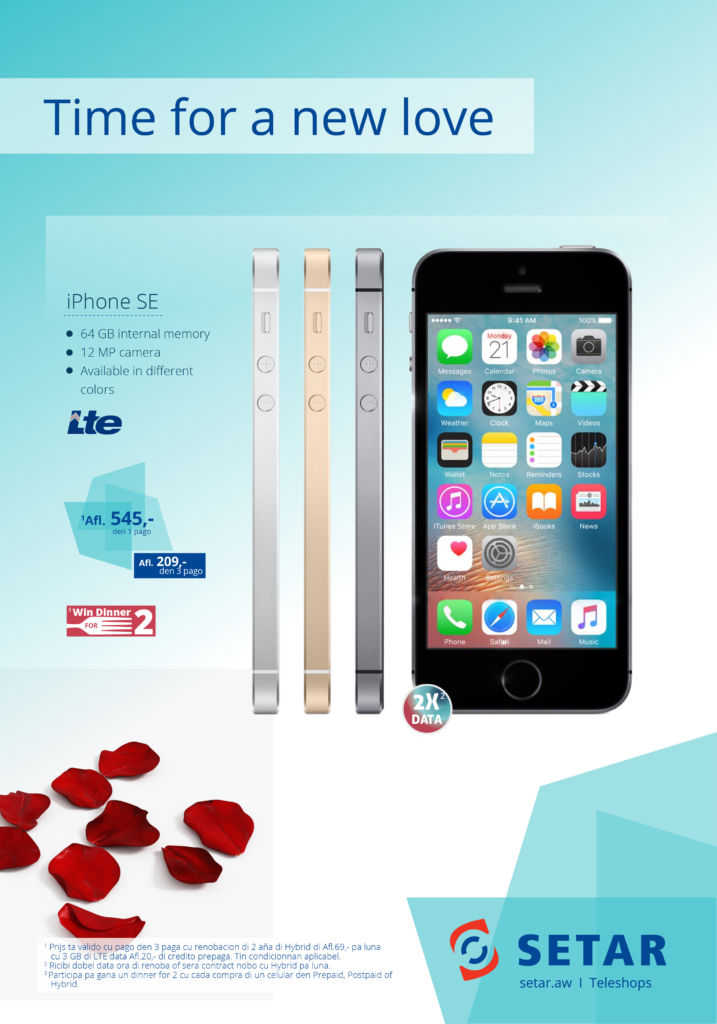 Surprise bo valentine cu un iPhone SE y un dinner for two.
Busca bo iPhone SE pa Afl.209 den 3 pago cu renobacion di bo pakete di Hybrid, ricibi dobel data y participa pa gana un dinner for 2 cu cada compra di un cellular sea den Prepaid, Postpaid of Hybrid.
*Oferta ta valido dia 7 di februari te cu 14 di februari 2017.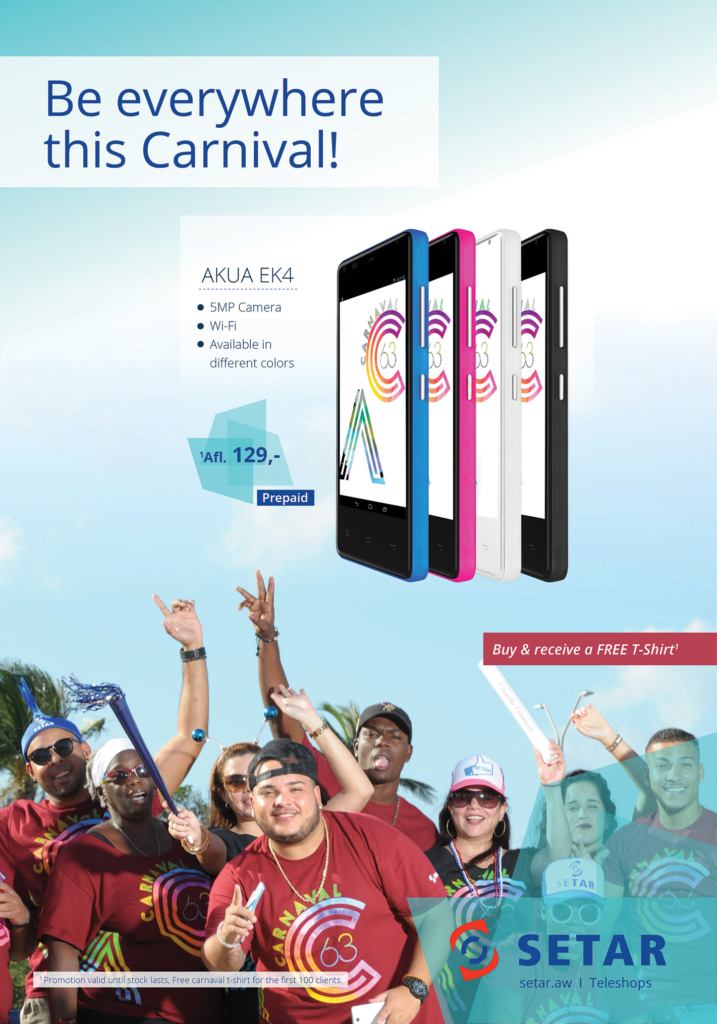 Get the AKUA EK4 now and receive a FREE Carnaval T-Shirt!
*Offer valid while supplies last
Busca e AKUA EK4 awor y ricibi un Carnaval T-Shirt GRATIS!
*Oferta ta valido tanten tin den stock.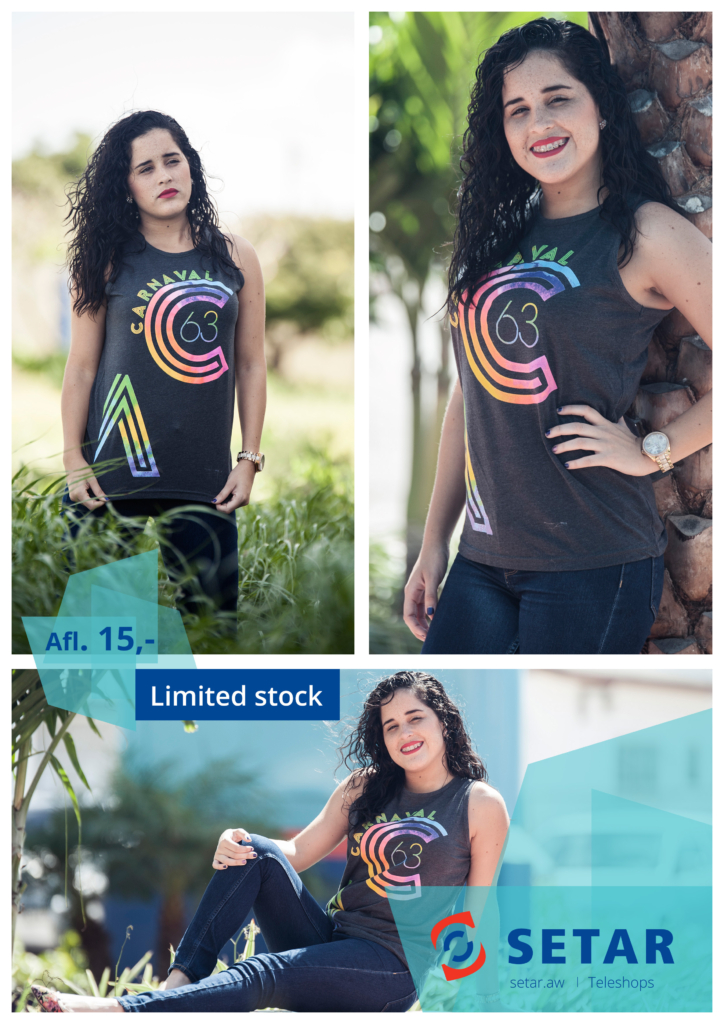 Get your Carnaval Tanktop or T-Shirt at any SETAR Teleshop before their gone for only Afl. 15
Busca bo Carnaval Tanktop of T-Shirt na cualkier SETAR Teleshop prome cu nan caba pa solamente Afl.15

Participate to win Afl. 5000 in our Dance Challenge!
Enter here: SETAR DANCE  (Campaign Ended)
Winner: St. Paulus School
Yello y SETAR ta recycla cu FunMiles
Recycla bo bukinan di Telefon di añanan anterior y contribui positivamente na Aruba su medio ambiente!
Pasa e weekend aki dianan 3, 4 of 5 di maart 2017 di 10:00 am pa 3:00 pm na un di e tres localidanan pa entrega bo buki Telefon bieu y asina acumula FunMiles.
Cada buki cu entrega por haya 20 FunMiles.
Lugarnan caminda por entrega buki Telefon ta: Centro di Bario Noord, Kiwanis Land riba LG Smith Blvd of Carnaval Village na San Nicolas.