Hybrid
Cool, Low-cost Hybrid plan
With a Hybrid plan you can use our reliable LTE network for calls and enjoy a data bundle for worry free surfing. If you're switching from a Prepaid to a Hybrid plan you can keep your existing Prepaid number.
Why choose Hybrid:
Calling and Data in one easy plan


No surprises with one fixed monthly fee


Choose from the largest variety of the latest smartphones


Access to the Best LTE network in Aruba

Learn more
Choose from the following Hybrid plans:
15 GB
Afl. 10 Prepaid Credit

Start
25 GB
Afl. 15 Prepaid Credit

Basic
35 GB
Afl. 25 Prepaid Credit

Lite
45 GB
Afl. 45 Prepaid Credit

Comfort
Recharge Online
You can recharge Prepaid Credit online. Just follow these 4 easy steps:
3. Choose your recharge bundle.

4. Fill in your credit card information and pay.

Your account will be credited.
Need more credit?
To purchase credit or any bundle call: *123#, in the SETAR App, Pay.aw App or visit our Online Store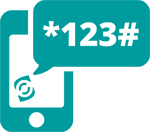 Frequently asked questions Mobile
To see your remaining credit please dial *123# and follow the menu.
You can do this by dialing *123# on the device and following the menu.
How does it work?
There are two rates for data bundle: an in-bundle and an out-of-bundle rate. There is a fixed rate for the in-bundle. If you exceed this, an out-of-bundle rate of Afl. 2 per MB will apply.
What happens when I exceed my permitted amount of MB's in my package?
For every additional MB outside your bundle, you pay Afl. 2. Of course, you can always buy a new bundle. This will commence on the day you activate it. The validity of bundle can vary from 1, 2, 3, 7, 14 to 30 days (or up to the maximum number of MB's you use). This depends on the type of bundle you choose. You can renew your bundle up to 2 hours before it expires.
No, this is not possible.