Bundle di Data
Un Bundle di Data di SETAR ta duna bo acceso na mobile Internet, e-mail, WhatsApp, YouTube, Facebook, Gaming... tur na bo disposicion. Y tur riba e unico red LTE na Aruba!
Beneficio di un Bundle di Data:
Bundle cu bo por afford cuminsando na Afl. 5,-


Sin compromiso cada luna. Cumpra un bundle ora bo mester

Acceso na e mihor red LTE na Aruba

One Bundles
Bo no por dicidi entre un Bundle di Data of un SMS Bundle? Scoge nos One Bundle cu minuut, data y SMS, tur den un.
Beneficio di un One Bundle:
1,000 minuut adicional


200 text message adicional


Te cu 4 GB di uso adicional di Internet riba bo telefon celular


Ricibi Freebees ora bo cumpra un bundle di 30 dia

SMS Bundles
SMS ta e mensahe! Si bo ta uza hopi SMS, anto bo mester e bundle extra pa text messaging.
E Beneficionan di un SMS Bundle
Bundles cu bo por afford cuminsando na Afl. 3,-

SMS adicional di 25 te cu 500

Mas grandi e bundle ta, mas bo ta spaar
Recarga Online
Bo por cumpra bo carchi Prepaid. Djis sigui e 4 stapnan facil aki:
2. Crea un account.

3. Scoge bo carchi Prepaid.

4. Yena bo informacion di credit card y paga.

Lo credit bo account.
Cla pa cumpra?
Pa cumpra cualkier bundle yama:*123#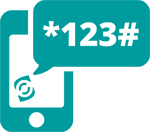 Preguntanan frecuentemente haci relaciona cu Celular
Lesa e instruccionnan cu a bin cu bo Smartphone. Si ainda bo mester ayudo pa configura bo aparato nobo, djis yama na nos SETAR Store y nos personal lo ta contento di yuda bo. Esaki lo costa un minimo di Afl. 25,-. Bo por spaar tempo dor di haci un cita di antemano aki.
Pa mira bo credito cu a resta por fabor yama *123# y sigui e menu
Bo por haci esaki dor di yama*123# riba bo celular y sigui e menu.
Con e ta traha?
Tin dos tarifa pa data bundle: un tarifa 'in-bundle' y un 'out-of-bundle'. Tin un tarifa fiho pa e in-bundle. Si bo surpasa esaki, un tarifa di out-of-bundle di of Afl. 2,- pa cada MB lo ta aplicabel
Kico ta pasa ora mi surpasa mi cantidad permiti di MB den mi pakete?
Pa cada MB adicional pafo di bo bundle, bo ta paga Afl. 2,-. Naturalmente, bo por semper cumpra un bundle nobo. Esaki lo cuminsa riba e dia cu bo activa esaki. E validez di e bundle por varia di 1, 2, 3, 7, 14 te 30 dia (of te cu e cantidad maximo di MB cu bo uza). Esaki ta depende di e tipo di bundle cu bo scoge. Bo por renoba bo bundle te cu 2 ora promer cu e vence.
Contact
Mester ayudo?
Yama celular helpdesk: 139