SETAR ta haci su maximo esfuerso pa sirbi mas cliente online via store@setar.aw, of via nos customer service y Whatsapp Support.
Si bo persona mester bishita un di nos Teleshops, mester tene cuenta cu e siguiente reglanan:
- Mondkapjes ta verplicht pa drenta tur e Teleshopnan.
- Mester haci uzo di hand sanitizer na entrada.
- Mantene distancia social na tur momento paden y pafor.
- Cantidad di persona den un Teleshop ta limita.
Orario di Teleshops
Teleshop Seroe Blanco: 7.45 am pa 4.00 pm
Teleshop Irausquin Plein: 9.00 am pa 5.30 pm
Teleshop Santa Cruz: 9.00 am pa 5.30 pm
Teleshop San Nicolas: 9.00 am pa 5.30 pm
Teleshop Noord: 9.00 am pa 5.30 pm
Online Banking
Clientenan cu ta haci nan pago via e plataforma Online di nan banco por uza e siguiente informacion ora di paga nan recibo: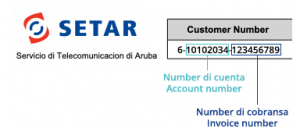 Online Store
Via nos online store por cumpra prepaid credit y bundles pagando cu bo credit card.
Bo por cumpra pa bo mes y/of pa un otro usuario.
SETAR App
Prepaid / Hybrid – Cu SETAR App usuario prepaid por cumpra bundles pagando cu nan core credit. Alabez por manda placa (credit) pa un otro number, y e suma lo wordo kita for di bo core credit.
Postpaid – Usuario postpaid por cumpra add-on bundles y esaki lo wordo poni riba su recibo di luna. Por manda placa pa un otro number tambe, y e suma lo wordo poni riba bo cobransa mensual.
Pay.aw
Cliente cu Aruba Bank
- Cliente cu Aruba bank por link su cuenta di banco cu su account di Pay.aw y asina paga e cobransa di SETAR (den e tab di bill payment)
- Por recarga un number prepago (den e tab di Recharge) of order cuminda (den e tab di food)
- Tambe por transfer placa pa cualkier persona su Pay.aw wallet pa nan tambe por haci compra den Pay.aw. Solamente mester nan number di telefon of door di scan nan QR code.
Cliente di RBC, CIBC, CMB y Banco di Caribe
– Cliente di RBC, CIBC, CMB y Banco di Caribe por login den nan Online Banking y haci un local transfer pa credita nan wallet. Click aki pa mas informacion y instrucion di con pa haci esaki.
MiSETAR
Den MiSETAR ta posibel pa cliente wak su facturanan y tambe paga esaki facil uzando Aruba Bank.
Tambe ta posibel pa cumpra bundle y add-ons pa prepaid y postpaid.
E pago di cliente prepaid ta wordo kita for di nan core credit, y postpaid ta mira e cobransa riba nan siguiente factura.
Rekisitonan pa paga bo cobransa den MiSETAR:
• Mester ta un cliente di Aruba Bank
• Mester tin Text-Banking di Aruba Bank enabled.
Ricibi bo cobransa:
• Cliente cu tin paper billing y tambe cliente 60+ lo sigui ricibi nan cobransa na cas.
• Cliente cu tin MiSETAR lo ricibi esaki via email. Si bo ta un cliente di MiSETAR nos ta recomenda pa sende e setting di SMS (GRATIS) den bo MiSETAR y ricibi bo cobransa trempan via SMS.
Con bo ta haci esaki? Login den MiSETAR > Click My Profile > Controla bo mobile number > Enable SMS notification (esaki ta gratis!)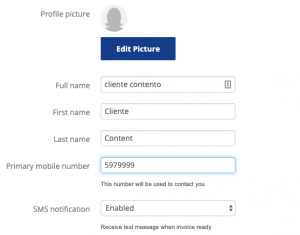 Otro aplicacionan interesante di SETAR
(pa cliente cu tin un pakete di Cable Digital y un MiSETAR)
Stingray Music
Cu e app aki por disfruta di diferente genero di musica riba bo celular, tablet, of laptop unda cu bo ta na Aruba cu un conexion di Internet of Wi-Fi.
ESPN Play
Cu e app aki por mira e canalnan di ESPN live y On Demand for via bo celular of tablet unda cu bo ta na Aruba cu un conexion di Internet of Wi-Fi.
Prevencion ta e mihor remedi
SETAR como nos compania nacional di Telecomunicacion ta siguiendo e desaroyonan rond di e Coronavirus (COVID-19) hopi di serca. E salud di nos empleadonan, nos clientenan y e comunidad di Aruba en general ta nos prioridad como tambe e continuidad di servicionan cu SETAR ta ofrece. Pa es motibo, SETAR a adopta un lista di maneho pa preveni y sigura e bienestar di nos empleadonan y clientenan.
Teleshop Seroe Blanco y e TeleKiosk na Airport a wordo sera te cu proximo aviso. E demas Teleshopnan lo sigui brinda servicio cu orario adapta. Clientenan cu ta bishita nos Teleshopnan ta wordo pidi pa coopera cu e siguiente precaucionnan cu SETAR a tuma:
• Un cantidad limita di persona por drenta e Teleshop na mesun momento;
• Uzo di mondkapje ta obligatorio pa drenta tur Teleshop;
• Uzo di handsanitizer ta obligatorio na entrada;
• Mantene bo mes patras di e strepi geel na e balie;
• Y evita contacto cu otro personanan door di mantene distancia y saluda sin duna man.
SETAR di su banda a aumenta limpieza di su Teleshopnan, specialmente e areanan publico y e balienan.
Na mes momento, SETAR ta conseha clientenan pa sigui e instruccionnan di DVG encuanto Social Distancing y limita bishita na nos Teleshopnan. SETAR tin varios opcionnan online pa clientenan di prepaid y tambe pa pago di cuenta di SETAR.
SETAR conforme e instruccionnan di Social Distancing ta trahando cu menos capacidad pa atende cu cliente. Nos ta pidi clientenan pa yama nos Contact Center solamente ora tin preguntanan urgente na e numbernan conoci of WhatsApp na 597-9999. Sigui nos riba nos pagina di Facebook pa asina keda al tanto di tur informacion. Hunto nos por stop e virus aki.